RF Skin Tightening
Radiofrequency (RF) skin tightening for the body is a non-invasive cosmetic procedure designed to address sagging or loose skin and promote a firmer, more youthful appearance. This innovative treatment utilizes RF energy to heat the deeper layers of the skin, stimulating collagen production and tightening the existing collagen fibers. As collagen is a vital protein responsible for the skin's structure and elasticity, the increased production contributes to a gradual improvement in skin tightness and texture. RF skin tightening is commonly used on various areas of the body, including the abdomen, thighs, arms, and buttocks, making it an effective solution for individuals seeking non-surgical body contouring and rejuvenation.
One of the key advantages of RF skin tightening is its ability to target specific areas with precision while avoiding damage to the surface layer of the skin. The procedure is generally comfortable, with minimal to no downtime, allowing individuals to resume their regular activities shortly after treatment. Over the following weeks and months, patients typically notice a progressive enhancement in skin tightness and firmness. RF skin tightening is well-regarded for its versatility, making it suitable for those who wish to address mild to moderate skin laxity without the need for surgery.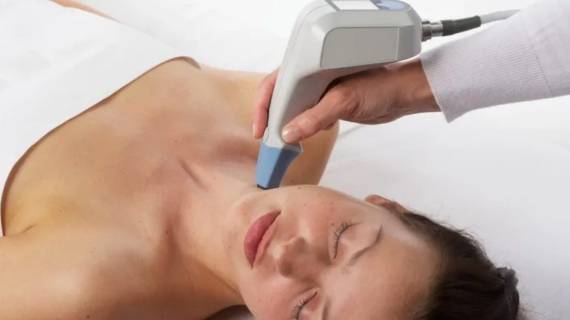 Testimonials
What Our Clients Say About Us
Having gained weight over the course of COVID, I was desperate to try anything, so I purchased the six-week Silver package. I can personally confirm that it worked for me, losing not 20lbs as promised, but almost 30lbs in the six-week period.

This was my first time trying microneedling. I was very pleased with my experience. The staff are so friendly and welcoming. They explained everything. I'm looking forward to my next treatment.

The new location is gorgeous- really bright and spacious. I love going to Marda Loop to wander and have coffee so, now I can do that before or after a facial at the MediSpa. Staff are always wonderful and really knowledgeable which is definitely reassuring. My treatment today was relaxing. Can't wait to see the results!

I can't say enough about this medi spa, it is truly unlike any. And I have been to multiple around the city. The staff are so friendly, knowledgeable and helpful and make sure to explain every procedure so that you feel at complete ease. After having procedures done I can say that I would not go anywhere else! Thank you Dr. Peter and staff especially Catalina for such a wonderful experience!

I got 1ML Juvaderm lip fillers from Dr Peter. He was amazing! Explained the process really well and let the numbing sit for a while, (I was nervous it was my first time lol). I will definitely be back for more. My lips look great and the environment was clean, fun and comfortable!

I have recently visited this establishment, as it is new to my area. What an amazing team! A group of magicians! Such a warm welcome. A professional team, who truly just wants to help people become the best version of themselves. I especially appreciated the recommendations for my skin coming from a professional. I felt like a celebrity coming in and leaving the spa. I highly recommend this spa for any of your beauty needs!!! I will be an ongoing client with these beauties ❤️

A great experience! The doctor administered my Botox and was able to reduce fine lines no other clinic was able to diminish. The staff are very knowledgeable and skilled. I will be going back!

Absolutely loved my first appointment everyone was extremely welcoming, knowledgeable and professional. Definitely will become a regular client, can't wait to share with friends and colleagues. Grateful to have been introduced to this oasis in Marda Loop.

What a great 1st experience! I had Purchased Botox on my own from the pharmacy, and could not find anyone willing to inject my own Botox, or they wanted a ridiculous price to inject it. Dr. Peter willingly did the injection and was welcoming and friendly and funny. Plus they prices and so reasonable they I won't need to purchase Botox on my own in the future.

Reservation
BOOK NOW
BOOK ONLINE
Subscribe to our newsletter
You can be always up to date with our Special Offers